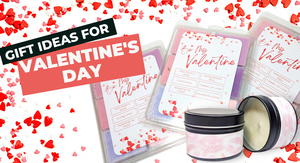 The Best Wax Melt Gifts for Valentine's Day!
What's better than a little bit of wax on your Valentine's Day gift? A whole lot of wax! If you're looking for the perfect way to give that special someone in your life the cutest, most romantic Valentine's Day gift ever, look no further than this curated list of the best gifts for Valentine's Day. From heart-shaped Wax Melts to trendy Crystal Jewellery, these homemade gifts will have him (and her) melting right down! From candles to car diffusers and everything in between, these Valentine gift ideas are sure to please.
Shop All Valentine's Day Gift Ideas
Ideas for Valentine's Day
Although most people think of Valentine's Day as a day to give gifts to their loved ones, it's actually a great time to shop for yourself. Whether you're looking for a unique gift for a friend or an adorable housewarming gift for your new neighbours, these Valentine's Day gifts will have you feeling extra special.
Wax Melt Gifts for Her
If you're looking for a really special and personalized Valentine's Day gift for your significant other, look no further. Our Wax Snap Bars come in an array of different designs, and they're easily the most romantic gift you can give. If you combine this with a freshly run bath and dimmed lights, you could even get her a Bath Bomb! Don't forget to light those t-lights and let your partner unwind while enjoying the gorgeous aromas.
 Check out our New Valentine Wax Melt Gift Set - Be My Valentine
Car Diffuser Gifts for Him / Her
If you and your partner both love to go for a long romantic drive, then we have an array of car scents perfect for him or her to enjoy as they journey with sound and scent. These Wonderful car diffusers come in four shapes and are presented in a cute drawstring bag.
Why not treat your friends by showing them how much you care by giving a really thoughtful gift that they can enjoy on their journey.
Jewellery Gifts for Valentine's Day
If you want to treat your other half to something a bit more special for Valentine's Day, consider getting her handmade jewellery. Here at Aroma Luxe we do more than just candles and wax melts, we also create crystal bracelet diffusers, and they're perfect for all occasions. You may also want to treat your mother this valentines, so what would be better than a sterling silver heart necklace to show her how much you care.
Romantic Candles
If you're looking for a more specific romantic gift for your loved one, consider a candle, not just any candle... You can find many different types of candles on Aroma Luxe, and they come in a variety of different scents and styles. These are a beautiful way to express your love for your partner, and they make the perfect romantic Valentine's Day gift. Many people buy them for the ambiance, but you can also buy them for their romantic meaning.
Perfume and Aftershave Gift Ideas
If you want to treat yourself to something really special for Valentine's Day, consider getting some aftershave or perfume. Smelling good is a really important part of anyone's grooming routine, and it should be treated with the utmost respect. There are so many options when it comes to perfume and aftershave, so much so we are enticed by all the colourful and crafted bottle shapes that we get lost in a world of advertising, but we have the perfect solution to cut through all the noise, our range of dupe perfumes help you smell great and save those pennies. Get your loved one some good quality aftershave, and treat yourself with a nice gift. After all, you deserve it!
Conclusion
When it comes to giving the best Valentine's Day gifts, there's no limit to what you can do. Whether you're buying a gift for a friend or getting that special person something for their Valentine's Day, these handmade gifts are sure to please.
---