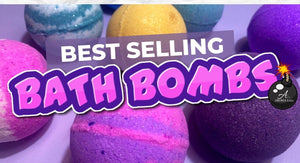 Bath Bomb Blast off! Our Best Selling Bath Bombs | Aroma Luxe
Bath bombs… some people live by them; some people have never even tried them! Well, where do we start? Let's jump into it by explaining what a bath bomb is!
So, what is a bath bomb we hear you ask? A bath bomb is a dissolvable object that comes in all sorts of shapes and sizes. It's designed to be put in a bath where it fizzes up, releasing lots of ingredients to benefit your skin and make your bath much more enjoyable! So, what are you waiting for? It's an essential to your bath so lets talk about how to use them…
Once you've filled your bath tub up, don't just leave it there! It's time to take it up a notch by adding a bath bomb. Just before you get in, pop your bath bomb in the tub and watch it as it fizzes, spilling out an array of glorious colours and changing the colour of the water!
Bath bombs are a great way to set the mood and create a much more enjoyable experience!
Here at Aroma Luxe, we offer are wide range of differently scented bath bombs to level up your bathing experience!
Firstly, we have Dark Opium which is a scent inspired by the popular perfume 'Black Opium'. This scent is a floral based scent with hints of dark coffee to add a burst of energy and sensuality making for the perfect bath bomb scent to revolutionise your next bath!
In addition to this, we also have a Lady Million bath bomb. Inspired by the world renown fragrance from the house of Paco Rabanne with their famously known Lady Million. This scent has top notes of bitter orange and raspberry, with base notes of honey, patchouli and amber. At the heart of this scent there are hints of jasmine, orange flower and neroli. The combination of all of these scents creates a warm, inviting scent which we have replicated in our Lady Million bath bomb which is the perfect companion to go with your next bath.
Also, arguably one of the most well-known scents there is… we're talking about non other than Sauvage! Our Sauvage bath bomb is inspired by the well-known Dior Sauvage. It's been a huge hit for us and is up there with our bestsellers!  This hunky fragrance has a strong woody base with hints of patchouli, lavender and geranium combined with bergamot creates a powerful, masculine scent. We also designed the bath bomb to represent it's strong dark scent by having midnight blue colours with white on the outside! With fresh blue colours on the inside; so when your Savage bath bomb fizzes away in your bath, it will leave behind a strong deep water blue colour to add to your bath experience!
Our undisputable best seller since launce has been Ice Queen which is the inspired scent known as 'Snow Fairy'. This lush inspired scent will tickle your sweet spots, smelling of a mixture of candy and pear drops.
But....We're not finished yet!
New Scents are now available online at aroma luxe, we launch new products monthly and you can be the first to know about them if you subscribe to our newsletter or follow us on social media.
NEW SCENTS!!!
+ more coming soon, so keep in touch with us and subscribe here.
Well, that's it from us today! We hope you enjoyed our blog posts and the quick taster on some of the different bath bomb scents we have to offer!
Please check out All our amazing scents and enjoy your next bath!
---