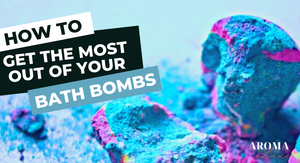 How to get the most out of your Bath Bomb
Bath bombs… what a beautiful thing. There's something about a bath bomb that creates a magical moment of true bliss.
So, first things first, what exactly is a bath bomb!
A bath bomb, oh yes we're going scientific here! A bath bomb in it's true form is just a mix of sodium bicarbonate mixed with citric acid infused with all the other good stuff we know and love bath bombs for. The purpose of sodium bicarbonate and citric acid is simply so when the bath bomb comes in contact with the water, it fizzes and the fragrance and colouring along with skin boosting ingredients is released. You know, all the stuff we love bath bombs for!
How To Create The Perfect Vibe For A Bath Bomb:
The ultimate bath bomb experience starts way before you step foot in that bath! Oh yes, we mean it… those Instagram pictures of super cozy, cool looking bath bomb set ups took some time before the warm water was running. So, to begin with it's super important to have a clean, and make sure your bathroom is spotless. We're talking hoover, wipe the floor and surfaces. The lot. Trust us, it will be worth it!
Set up the essentials. By essentials we mean those things you can't go without when taking a bath. Such as that fluffy towel on the floor ready for when you step out, the towel so you can dry yourself off and the robe that you can put on once you're finished. Get all of this ready so your post bath is just as good as the real thing!
Dont forget to light those candles or get a wax melter illuminating soft warm glows and adding extra fragrance with your favourite wax tarts, all this will add to the ultimate bath experience.


Next up on your to do list… get some music playing! Oh yeah, whatever tunes your feeling right now, just press play! A bath is a time to enjoy so settle down with some music and enjoy the vibe. One thing we would suggest, if you want the tranquil vibe of a bath bomb bath (that's a mouthful!) Then maybe opt for some relaxing music, maybe some classical tunes or jazz music!


Dim the light. Yep, why not? Make the vibe serious. If your gonna use a bath bomb you might as well do it properly. Dimming the lights and lighting a candle is the ultimate way to create the perfect environment for the most relaxing bath. But on a serious note, be very careful when dealing with flames and make sure it's in a suitable position and does not oppose a fire risk to anything!


Next up… grab a book. If your into reading this is the perfect time to have some you time. So grab that book you've been meaning to read and start. If reading isn't your thing then that's okay, you could choose to watch a film.


but you may want to stay away from a screen and we understand that. A podcast could be a great way to enjoy your bath. Or just sitting in the warm fizzing water in silence is so relaxing there's no reason why you even need any entertainment!
Finally, once all of these steps are covered. It's time to turn the tap on! Make sure you get the right temperature so constantly check the water to ensure it's right for you.


Finally, step in, unwind! and begin the bath bomb blast off to relaxation.
What Are The Benefits:
Relaxes the body and mind. Bath bombs are a great way to unwind after a long day or week. There's something about sitting in a warm bath with a bath bomb fizzing around that brings another sense of tranquility.
When you step out the bath you will feel refreshed and energized which means you will be more active during the day!
Softens skin. Bath bombs are host to a world of skin boosting ingredients that often cause dry skin to flake off, leaving you with soft smooth skin. Perfect!
We hope you enjoyed reading our blog post on 'How To Get The Most Out Of Your Bath Bomb!' Please feel free to check out our full range of bath bombs and let us know your favourites!

Also Check out our other blogs on Bath Bombs and Best Sellers
---