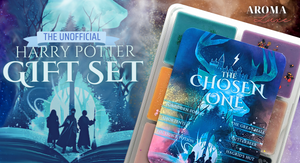 Wizarding World of Wax Melts: Harry Potter Collection
Attention, all wizards and witches! Are you spellbound by the magical universe of Harry Potter? Wish to summon the enchantment of Hogwarts into your household?
Behold "The Chosen One" - a Harry Potter Wax Melt Collection that will tantalize your sense of smell with bewitching aromas! In this post, we'll uncover the magic of this spellbinding gift set and how it embodies the essence of the much-loved characters, locales, and magic from the chronicles.
Description of The Harry Potter Wax Collection
The Harry Potter Themed Wax Collection features six scents influenced by the renowned wizarding series, transporting you directly into the World of Harry Potter. Every wax melt is meticulously handcrafted to embody the spirit of the narrative. Let's take a closer look at each scent:
Amortentia - The love potion scent

Polyjuice Potion - The transformation scent

Forbidden Forest - The enchanted forest scent

Butterbeer - The wizarding beverage scent

Hagrid's Hut - The cosy home scent

The Great Hall - The grand scent
These masterful mixtures not only delight the senses but also carry substantial meaning within the Harry Potter world. Let's explore the fragrances and hidden depths that each aroma reveals.
The love-inducing aroma of Amortentia is a tribute to the potion that generates an infatuation in those who ingest it.

The shapeshifting scent of Polyjuice Potion symbolizes the character transformations witnessed in the series.

The mystical woodland aroma of Forbidden Forest is a tribute to the magical woods ventured by Harry and his allies.

The sorcerer's beverage scent of Butterbeer recalls the famed libation in the Harry Potter universe.

The inviting home fragrance of Hagrid's Hut is a nod to the cozy and heartening residence of the much-loved character, Hagrid.

The grand scent of The Great Hall is reminiscent of the grandeur and magic of the Hogwarts dining hall.
The Magic of Harry Potter Wax Melt Collection
If you're a die-hard Harry Potter enthusiast, the Harry Potter Wax Melt Collection is an absolute necessity. Featuring six different aromas inspired by the saga, this collection will teleport you to the Wizarding World of Harry Potter with a simple inhalation.
Our Wax Wizards have devised the ideal method to conjure a mystical ambiance, whether you're immersed in the books, enjoying the movies, or simply seeking to lose yourself in the realm of sorcery. The collection encompasses six unparalleled scents poised to transport you to diverse regions of the Wizarding World.
What Wax Warmer to Use with Harry Potter Wax Melts
As a dedicated Harry Potter fan, you'll want to ensure the perfect wax warmer accompanies your enchanting Harry Potter Wax Melts. After all, you don't want to risk the wrath of Professor Snape by using a subpar wax warmer! But fear not, fellow wizarding enthusiasts - the Cauldron Wax Warmer is here to save the day.
Cauldron Wax Warmer
With its enchanting design and the ability to create a mesmerising magical ambiance, the Cauldron Wax Warmer is the perfect companion for your Harry Potter Wax Melts. So, brew up some butterbeer, light up your Cauldron Wax Warmer, and let the magic begin!
Pumpkin Wax Warmer
Another favourite is our pumpkin wax burner, an absolute must-have. This not only invites the mystique of Hogwarts into your dwelling but also acts as a beautiful piece of ornamentation. No Muggle devices can be found here - only genuine, untainted wizardry.
Accio autumn vibes!
Sure, our HP inspired wax melts will work in any old wax burner, but why settle for anything less than magical perfection? I mean, we're talking about the wizarding world here - a world where even the humblest of cauldrons can be enchanted to brew up a mean potion. So why not take your wax melting game to the next level with a potter-inspired burner?
Harry Potter Inspired Gift Ideas
Hold onto your broomsticks, Muggles, because I've got some wizard-tastic gift ideas that'll make your wand twitch with excitement! We already talked about wax melts and burners (hello, magical ambiance!), but let's dive deeper into the wizarding world of gift-giving. No need to be a skilled Legilimens to read your friend's mind - just surprise them with one of these enchanting gifts and watch their eyes light up like a Lumos charm.
First up, we have the Dragon's Blood Simmering Granules - not to worry, these aren't really made from the blood of dragons (phew!). These granules are actually a blend of aromatic scents that will fill your home with the scent of magic.
Next on our list is the Dragon Diffuser Necklace. What better way to keep the wizarding world's magic near you than by wearing a dragon pendant? Simply add a few drops of your favourite essential oil, and you'll feel like you can conquer anything with the strength of a dragon!
And of course, what's a Harry Potter-inspired gift guide without candles? We have a whole range of Harry Potter-themed candles (Coming Soon) that will transport you straight to the Hogwarts common rooms or Hagrid's Hut. From Butterbeer to Forbidden Forest scents, these candles are sure to cast a warm glow on any Potterhead's face.
So, there you have it, my fellow Muggles, a few magical gift ideas to delight any Harry Potter fan. Now, let's go get our wizard on!
Benefits of Using Harry Potter Inspired Gifts
One of the biggest benefits of using Harry Potter Wax Melts or Candles is that they can instantly create a magical atmosphere in any room. Each aroma in the collection is carefully curated to take you directly to the Wizarding World, be it the Forbidden Forest, Hagrid's Hut, or the Great Hall. The fragrances are potent enough to fill a space, generating a sensation of true immersion in the Harry Potter universe.
Rediscover the Harry Potter Experience For myriad fans, Harry Potter extends beyond a mere narrative; it represents a way of living.
Using the Harry Potter Wax Melt Collection is a fantastic way to revisit the emotions of reading the books or watching the movies. The fragrances can summon memories of your most cherished scenes, characters, and incantations, helping you connect with the magical realm.
"Anything's possible if you've got enough nerve"
If you're seeking an immersive experience in Harry Potter's magical domain without risking your place at Hogwarts, then the Harry Potter Wax Melt Collection and its add-ons are your perfect solution. Therefore, whether you belong to Gryffindor, Hufflepuff, Ravenclaw, or Slytherin, the Harry Potter Wax Melt Collection offers the supreme technique to infuse a dash of wonder into your Muggle life.
Frequently Asked Questions (FAQs) About Our Harry Potter-inspired Wax Melts
Is it safe to use these wax melts?
Certainly, our Harry Potter-inspired wax melts are safe for use, being made from eco-conscious soy wax. This natural, renewable resource is non-toxic and doesn't emit harmful chemicals upon combustion.
How many times can I use a single wax melt?
Our wax melts can be enjoyed multiple times before the aroma eventually vanishes. The total uses depend on factors such as the wax warmer's dimensions, the scent's intensity, and each session's duration.
Are these wax melts scented with essential oils?
No, our Harry Potter-inspired wax melts feature carefully engineered fragrance oils designed to encapsulate the essence of the treasured series. Master perfumers create these fragrance oils by blending various notes, resulting in a uniquely captivating scent.
Can I use these wax melts in a candle warmer?
Definitely! Use our Harry Potter-inspired wax melts with any wax warmer, including candle warmers, to enjoy their magical fragrance. Simply place one or two melts in the warmer, and let the heat slowly release the scent.
Are these wax melts cruelty-free?
Yes, our Harry Potter-inspired wax melts are cruelty-free and not tested on animals. We focus on creating products that are safe, sustainable, and ethically responsible.
---