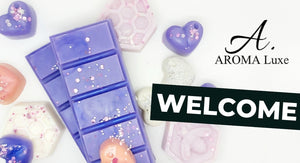 Welcome to Aroma Luxe!
Hello and Welcome :)

First of all, I would like to say "Thank You" to all my customers. You have filled me with joy, to know you are supporting my little business and for that I am forever grateful.

"Thank You!"

I hope this is the first of many blogs and a bright new start, which is very much-needed from the lockdown and redundancies of what COVID-19 inflicted on us all. Like many this impacted on my day-to-day job and in some aspects, my mental health, the worry of paying my bills and keeping the family fed was keeping me up all night and filling me with anxiety. As a way to make ends meet, I started buying and selling FM branded fragrances to family and friends, which set me on the path to Aroma-luxe.co.uk

From the launch of Aroma Luxe on Facebook and Instagram, I began with a select few scented wax melts in various sizes and colours. This is where your support really helped me out and I was able to launch a fully secured web checkout.

Within the first week I started an affiliate programme on the website so that supporters, family & friends can earn commission and discounts on any referrals. If you're interested in earning a little extra cash then please check out our affiliate program here!

We are now rolling out more scents in larger sized snap bars for the same price. This is another way I wanted to show you my gratitude. We plan to launch a new scent every month, this week we have launched four new scents in all our wax products;

· Bakewell Tart
· Pear Drops
· Unicorn Sparkle
· Angel
+ More Coming Soon...

Apart from this, we are also looking at ways we can improve our service. As many new start-ups have teething issues, we were no exception. Our scented granules were packaged in 50 gram pots, we soon discovered this was a bad idea as a few of you contacted me to say they had split on arrival…Introducing the new and improved scented sizzler pouches with extra sizzle, our grip seal bags now contain 55 grams and are post friendly.

We are just finishing doing the last touch-ups to our 'shop by scent type' and it is finally ready for public use. You can now quickly find your favourite scents in a click or two.
Over the coming weeks/months we are increasing our production and looking for ways to improve our products and service. We always try to listen to what our users have to say, and our decisions are made keeping your needs and requirements in mind. If you have any questions or comments, do let us know.
Spread the love and leave us a review.
---