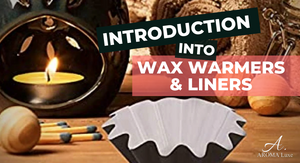 Wax Warmers & Introduction to Wax Liners
If you're a wax melt fan, it's important that you know about wax melters. These are often overlooked when purchasing a wax melt, but they are so important as they burn the wax… which lets off the luscious aroma.
In this Blog we want to cover a few topics such as the difference between wax warmers and Electric Vs Tealight Wax Burners, were also going to introduce you to a wax hack on how to keep your warmer clean.
So lets begin with the pros and cons of electrical wax warmers compared to Tealight.

Tealight vs Electric Wax Warmers

Firstly, we want to speak about standard ceramic warmers. Well, a ceramic warmer is a stylish way to present your wax melt as they are decorative ceramic dishes which are sure to grab the attention of any visitors!

A standard ceramic warmer works by tea light candle, which heats up the wax melt; therefore, letting off the scent of your wax melt!


Pros: Cheap, reliable and comes in many different shapes, designs and sizes.
Cons: Not child or animal friendly due to naked flame.
Electric Wax Warmer
On the other hand, if a standard ceramic warmer isn't to your taste, you could also get an electric plug in warmer. These have the same concept of heating up your wax melt, but instead of a flame creating the heat, it's replaced by a hot bulb which heats up the wax melt to create the amazing scent! Some can also be used just as a lamp an has colour changing lights which can make your living space a cosy vibrance of colour.
Electric Wax warmers are a much safer way to use wax melts as there isn't a flame involved. If you have young children or pets, it might be best to choose an electric warmer. On the other hand, you may enjoy the flickering romance of a tealight candle.
Pros: No naked flame and can be used as a lamp.
Cons: Expensive, limited to certain areas of the house

There are so many great looking wax warmers, and you are bound to find one to suit your taste! They come in a variety of colours, shapes and sizes so you can mix and match them with the aesthetic of the particular room!

What type of wax warmer gives a better aroma?

You will find an array of answers on the internet to this question, but I find that the larger the well or wax pool the better the scent, so if you're looking for a longer-lasting scent then search for a wax warmer with a bigger wax reservoir. This is especially the case when using a tealight wax warmer as these generate a lot of heat and disperse the aroma into the air much faster.

Whats the difference between a wax warmer and an oil burner?

You will see a few terms used when looking for a wax warmer which may seem confusing, let me try to help you identify the difference. So a wax warmer/wax burner are usually the same thing. Some may differentiate these by electric being a warmer and a tealight being a burner due to the candle flame. An Oil Burner is usually smaller and used primarily for
fragrance or essential oils. Using an oil burner for wax melts could become problematic when it's a tealight version as the heat of the flame is much closer to the well and if left on for too long could cause cracking and extreme heat which may cause a fire, these types of warmers should always be supervised.

How Do you Clean a Wax Warmer?

The downside to ceramic and electric warmers has always been the wax
removal. In order to do this, you need to wait until the wax has cooled and use small paper towels or cotton wool balls to soak it up. Sometimes a knife, spoon or other utensil has been known to graze the hot plate but this is something we wouldn't advise.

If you're using paper towels, it's suggested that you gently blot the dish to remove any wax without damaging your ceramic warmer.

However, if you opted for cotton wool balls, you can just leave them to soak everything up! This makes for an efficient way to clean your wax warmer tray, but here at aroma luxe we have something that is quick easy and is a great wax hack…Yes we are talking about the wax liners, these little wax warmer accessories allow you to quickly switch scents throughout the day and cuts out the cleaning part! Perfect, right?

It doesn't stop there…Once the wax has cooled down in the wax liner, it
can easily be popped out into a cute little wax tart and used again at another time or in a different room.

We mentioned that a bigger wax well is a bonus when it comes to a stronger and longer lasting scent in your room, you will find adding a wax liner can increase the wax warmer capacity which allows you to add a smidge more wax to your burner.

Well, that's it for now… we hope you enjoyed our introduction to wax warmers!
---