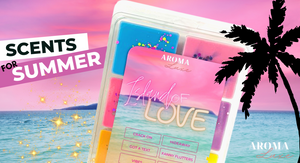 Summer Scents, Love & Island Inspired Wax Melts
I know, I know….its not quite summer, but we are so excited! We have seen a few glorious days of sun in the UK, but as usual, the British weather soon changes…Don't despair as the arrival of our favourite love programme is coming back on our telly, so let's keep feeling the summer vibes.
Here at Aroma Luxe we are in full summer mode and cannot wait any longer. We have created a top 5 list of summer scents and home fragrance must haves.
To really get the party started, a new gift set inspired by the island of love with a collection of six scents. We have designed this gift set around some of our
favourite quotes and infused it with a gorgeous mix of fresh fruits, cocktails and fresh ozonic layers – there is something for everyone in this gift box from early summer mornings to sunset evenings. We cant wait to get those wax segments melting during the islands beautiful back drop of sunny Mallorca.
The 'Island of Love' Collection
Hurry while you can, this Lovers Island Wax Set is a limited edition and won't be around for long!
Next, we have one of our best-selling Wax Snap Bars 'Unicorn Sparkle' with its sweet and fruity accord of bergamot, orange & candy floss to name a few of the layers. This delightfully coloured wax melt brings a positive energy to your room.
 Keeping on trend with our summer wax melt collection, this is a favourite pick of many customers and brings those beach vibes and ocean breeze freshness with its exotic blend of floral and fruity aromas.
Moving onto our candle collection, recently we introduced our Crystal Candles, which each have its own burst of energy. For this, we have picked citrine as our summer selection. Imagine the flicker of candle flame and the scent of jasmine sambac and lemon on those long summer nights. This beautiful candle will set a pleasant mood for you to relax and unwind.
Looking for a Summer Car scent? We have one for you…Our Black Coconut fragrance will bring those island scents into your car on those early summer mornings and evening drive home, infused with vanilla, tonka and you guessed it, coconut!
That's our summer list overview, but let's not forget about our summer sizzler collection. Our simmering granules are scented and safe to use. Why not add them to an ashtray or the bottom of your bin to keep those nasty smells at bay.
We hope this has helped and inspired your summer fragrance playlist for around the home and how you can make it a paradise of aroma.
---