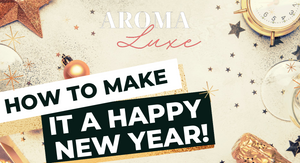 Make it a Happy New Year!
Wow, what a year that has been! 2021 has thrown us a few curveballs, we have adapted, changed, moved on but most importantly… we got through it!
We've had the Pandemic, celebrations and devastations but with all that behind us, there is only one way to look. Forwards!
Today, we want to give you time to reflect on the past year and prepare for the next one, let's do it!
So before we start jumping ahead to 2022, let's just take a moment to look back at what a year we've just had.
Here's a fun task for you… grab a pen, and a piece of paper. Firstly, write bang in the middle of the page… "2021". Then put a circle around it, yep you've guessed it, we're going to draw a mind map…
We want you to write down anything that comes to mind when you think of the last year we've had. The key is to just write main events good and bad that happened, not long descriptive paragraphs but just take a quick note of a few things that stand out to you.
Don't think too hard about this, anything that should be written down will come back to you naturally. Struggling to think of things? Let's help you out… the Euro's football. A gutting day for us Brits out there but why not write it down. It's a memory of a good year so why not? Also how about your Birthday? Who did you celebrate it with? Any good times with friends? Holidays? Fun events you went to? Your exam results or that new job? Whatever it is, make a note of it. Expressing gratitude is one of the best things we can do for our mental health. Being grateful for who we are and what's around us is super important to living a fulfilling life.
New Year's Resolutions for 2022
Oh yes, it's this part of the new year again where we all write down the thing's we want to do and forget about them till November. But this year, there's a twist. We want you to write down all of your goals and targets for this year. But instead of leaving it there, make a couple of points underneath each target and include some smaller sub-targets to help you achieve the main goal. An action plan as such to how you will achieve the original goal, this will keep you on track and give you a way of working towards achieving your New Years Resolutions.
I have listed a few things such as expanding the product range and improving packaging, also look for a long term premises as i am still working from my kitchen, but besides business i have also concentrated on my personal goals such as a family holiday and spending more time with my loved ones, as this year has been so busy and we were all unable to have direct contact... This has made me think about what is really important, family and friends will be something i want to embrace this year.
How to make the best out of the New Year
Next up, we want to discuss a few things that should be non-negotiable habits that you should install in your life. We want to suggest a couple of positive routines that you should use in your everyday life! 
Working out - Having a good exercise schedule is crucial to being energetic and upbeat in your day to day life! Did you know when you workout, endorphins are released into your body. These endorphins last for hours after your workout meaning you stay energetic and energized for the rest of the day!
A good sleep pattern - Sleep is crucial. It's crucial to allow your body to rest and recover. Try to aim for 7-9 hours of sleep per night to give your body the sleep it needs to function properly. To help with your sleep routine, try to wind down before you sleep. Check out our range of wax melts which can help to set a relaxing mood before you hit the pillow to ensure you get the most out of your sleep.
More 'You' time - If lockdown has taught us anything, it's that spending more time to do the things we love is so important. That's where we can help!
Taking some time for yourself is so important but sometimes in the rush of our day to day lives we forget to have a moment to breath. At Aroma Luxe we want to ensure you are maximising your relaxation time.
We have a range of wax melts which can allow you to take a breath, focus on the positives in life and give you a moment to take a break from the madness of our lives. Whether it's our 'Snow Fairies' scent or 'Fresh Linen". All of our wax melts are made with you in mind!
So don't stress the New Year, welcome 2022 as an opportunity to grow and progress and enjoy it! Happy New Year!
---