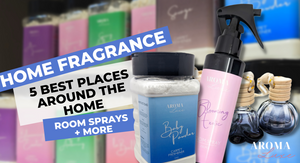 Home Fragrance And Room Sprays | 5 Best Places For Long Lasting Scents
Home fragrance is the secret hack to unlocking a new life in your home! We all have that friend or family member that whenever you go to visit, their home smells incredible! Well, guess what? They are most probably using room sprays
A room spray is a simple spray for your room that lets off an inviting aroma that will wow your visitors. We all want our homes to smell amazing, right? Well, this is the trick! Let's get into it…

What are the bonuses of a room spray?

1. First things first, the scent. Mhmm, trust us when we say this but the scent of these room's sprays is on another level! They are the life hack to changing your room smell with the squeeze of a finger.
You can even change the scent of room spray depending on the room to have a compelling scent for each room.

2. Safety. This is a really important point to make, as lots of people sacrifice an inviting aroma for their home due to the risks of a candle. Especially if you have young kids, or are just worried about having candles in your home. Room sprays provide the perfect alternative! A few quick sprays and you're done, your home is bursting with a new scent! Plus it's safe… perfect.

3. Easy.
In the rush of today's world, we are all super busy, which can sometimes mean letting a few nice things fall away. But with the use of a room spray, we can keep our homes smelling nice in just a few seconds. Spray, spray, spray… job done!
It's not hard to keep your home smelling fresh, but we've made it much easier with the introduction of our room sprays!

Now, I think we are all on the same page right? Room sprays are amazing and we all need one for our homes. Well, once you've got your room spray you need to know where to spray it. We are going to share with you a few secret tips of places to spray your room spray to make the most of that inviting aroma.
What are the best places to use room sprays?
Curtains
Curtains are a great place to spray your room spray as they will allow the scent to be dispersed all over your home by opening the windows and feeling the breeze. As the breeze comes through, it will blow through the curtains carrying the fresh scent of your room spray across your home! Magic.

Towels and sheets
This is a great way to add a boost of freshness which is sure to go a long way. We all love fresh towels or sheets, so add another layer to this by spraying them with your chosen room sprays.

Welcome mat
This is for the visitors, by spraying your room spray on your welcome mat means as people walk through the door the scent rises from above to give your home that fresh inviting smell we all dream of!

Cushions
Give your seating area a zest of scent for all your guests to enjoy as they relax and unwind, we are sure they will ask what that lovely aroma is.
Motor Homes & Car
Finally, we wanted to give you a bonus tip! The car… oh yes. The car is a great place to add a fresh scent. Spray it on the seats and be sure to have a lasting aroma which will make your driving experience much more enjoyable. Plus, feel confident when people get in your car as the scent is sure to make their car journey much more comfortable. 
Why not add a car diffuser to your travel space and keep those aromas fresh for longer - shop our car diffuser range.
These are just a few places you can spray your room spray to add to the freshness of your home. Don't forget you can just spray straight into the air, but try to spray onto other places to make the scent lasting. 
For some extra ideas and home scent solutions, let us introduce our range of carpet scents which will give you that extra deep clean.
What is Carpet Freshener?
Carpet freshener is made up of sodium bicarbonate soda and an infusion of fragrance, the bicarbonate soda absorbs odor molecules that are then lifted away from the carpet when vacuumed up.
How do you use Carpet Freshener?
Simply Sprinkle the carpet refresher powder over your rug or carpet, let the powder sit for a few minutes and then vacuum it away, hopefully leaving behind a clean-smelling carpet.
We hope this has give you some inspiration and keeps your home smelling great!
---