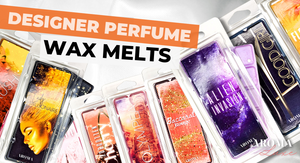 Discover the Scent-Sational World of Designer Perfume Wax Melts
Hey there, fellow scent aficionados! If you're anything like us, you're constantly seeking ways to turn your home into a warm and inviting sanctuary. Well, we've got some exciting news that's about to take your home fragrance game to the next level: designer scents now come in the form of wax melts! Yes, you heard it right. Your beloved designer fragrances have been transformed into wax melts, and we're here to show you why this is a complete game-changer.
A Bouquet of Scents: Perfume Wax Melts
Perfume wax melts come in a delightful array of scents, ranging from floral and fruity to woody and exotic. Regardless of your olfactory preferences, there's a wax melt that's a perfect match for you. Imagine the sweet aroma of blooming roses in your bedroom or the comforting scent of vanilla wafting through your living room. It's all within reach with these fabulous wax melts.
Black Opium: A Dose of Luxury
Let's kick things off with a true classic: Yves Saint Laurent's Black Opium. If you've ever fallen under the spell of this captivating fragrance, you'll understand why it's a must-have in wax melt form. The deep notes of coffee and vanilla create an ambiance that's both warm and inviting. Picture coming home to a space that exudes the ambiance of a chic coffee shop—that's the magic of Black Opium wax melts.
Coco Mademoiselle: Elegance Redefined
Chanel's Coco Mademoiselle is synonymous with elegance and sophistication, and now you can infuse your home with its timeless fragrance. With notes of citrus, jasmine, and patchouli, this wax melt embodies refined luxury. Lighting up a Coco Mademoiselle wax melt is like adding a touch of Parisian charm to your living room.
Lady Million: Unleash Your Inner Glam
Paco Rabanne's Lady Million is all about glamour and opulence, and its wax melt counterpart is no different. The blend of neroli, bitter orange, and jasmine creates an aura of extravagance in your home. Whether you're hosting a special evening or simply want to feel like a million bucks, these wax melts are the perfect choice.
Ghost: A Whisper of Mystery
For those who appreciate the subtlety of fragrance, Ghost wax melts are a dream come true. The delicate combination of floral and woody notes creates an ethereal atmosphere in your space. It's like having a soft, comforting secret that only you and your home are privy to.
Issey Miyake: Embrace the Zen
Issey Miyake's scents are known for their Zen-like simplicity, and the same tranquillity can be found in their wax melts. With aquatic and floral notes, these wax melts transform your home into a serene oasis. It's the perfect choice for moments of relaxation and introspection.
La Belle: Sweet Temptation
Lancôme's La Belle wax melts are pure indulgence. With gourmand notes of vanilla, pear, and tonka bean, your home will smell like a delectable dessert shop. It's the ideal choice when you want to treat yourself and your loved ones to something sweet.
Angel: Heavenly Delight
Thierry Mugler's Angel is iconic, and its wax melts capture its celestial essence perfectly. The blend of oriental and gourmand notes creates an otherworldly experience in your home. If you're looking for a fragrance that's truly out of this world, Angel wax melts are the answer.
Alien Invasion: Cosmic Scent
Alien, by Thierry Mugler, is a fragrance that defies convention. Its wax melts bring the same enigmatic allure to your home. With notes of jasmine and amber, this scent adds an intriguing touch to your space. It's perfect for those who crave a bit of mystery.
Olympea: Goddess Vibes
Paco Rabanne's Olympea is a fragrance fit for a goddess, and now you can experience its regal scent in wax melt form. With notes of salty vanilla and jasmine, it's a scent that commands attention. Using Olympea wax melts is like summoning your inner divinity.
Forgotten Cherry - Tom Ford: A Sweet Escape
Tom Ford's Lost Cherry Wax Melt is an intoxicating blend of cherry, almond, and tonka bean. The wax melt version offers a sweet escape from the ordinary. Light one up, close your eyes, and let the scent transport you to a cherry orchard in full bloom.
Bon Bon: Sweet Dreams
Viktor & Rolf's Bon Bon is a fragrance that embodies pure indulgence, and its wax melts are no exception. With notes of caramel and mandarin, these wax melts create a warm and inviting atmosphere. It's like wrapping yourself in a cosy blanket of sweetness.
Gucci Rush: Bold and Sensual
Gucci Rush is all about making a statement, and its wax melt counterpart is no different. With notes of gardenia and vanilla, these wax melts exude confidence and sensuality. They're the perfect choice when you want to make a lasting impression.
Flowerbomb: Explosive Elegance
Viktor & Rolf's Flowerbomb is an explosion of floral notes, and its wax melts capture that elegance beautifully. With a blend of rose, jasmine, and freesia, these wax melts bring an air of sophistication to your home. It's like having a bouquet of flowers that never fades.
Daisy: Fresh and Playful
Marc Jacobs' Daisy is a fragrance that radiates freshness and playfulness, and the wax melts embody the same spirit. With notes of strawberry and violet, these wax melts infuse your home with youthful energy. It's like a breath of fresh air on a sunny day.
Good Girl: Bold and Seductive
Carolina Herrera's Good Girl is all about embracing your bold and seductive side, and the wax melts are no exception. With notes of tuberose and roasted tonka bean, these wax melts exude confidence and allure. Light one up and step into your own power.
Baccarat Rouge: A Jewel of a Scent
Baccarat Rouge 540 by Maison Francis Kurkdjian is a fragrance that's often described as a jewel, and its wax melts live up to the reputation. With notes of saffron and cedarwood, these wax melts add a touch of luxury to your home. It's like having a precious gem in wax form.
Peony & Blush: Floral Bliss
Last but certainly not least, we have Jo Malone's Peony & Blush Suede wax melts. If you adore the scent of blooming flowers, this one's for you. With notes of red apple, peony, and suede, these wax melts infuse your home with a fresh and floral aroma. It's like having a garden in full bloom right in your living room.
Why Buy Designer Inspired Wax Melts?
So, you might be wondering, why should you consider these designer scents in wax melt form? Well, aside from the sheer luxury of it all, these wax melts offer several benefits:
Long-Lasting Fragrance: Designer fragrances are known for their longevity, and these wax melts are no exception. Your home will be enveloped in these scents for hours on end.
Cost-Effective: While designer perfumes can be pricey, wax melts offer a more budget-friendly way to enjoy these luxurious scents.
No Open Flames: Safety first! Wax melts are flame-free, making them perfect for homes with pets and children.
Stylish Decor: Our wax melt packaging is as stylish as the fragrances themselves, adding a touch of elegance to your home decor.
The Perfect Gift: Designer Fragrance Wax Melts
Looking for a thoughtful and luxurious gift? Designer fragrance wax melts are an excellent choice. They come beautifully packaged and are suitable for various occasions, from birthdays to housewarmings. Your loved ones will appreciate the gift of elegant fragrance.
In conclusion, if you're looking to elevate your home's ambiance and make it feel like a haven of luxury, these best-selling designer scents in wax melts are a fantastic choice. Treat yourself and your home to the magic of these dupe fragrances, and you'll wonder how you ever lived without them. Happy melting! 🕯️
Frequently Asked Questions
Can I use perfume wax melts in my office? Absolutely! Perfume wax melts are perfect for creating a pleasant atmosphere in your office or workspace.
Are perfume wax melts safe for pets? Yes, they are. Since there are no open flames, perfume wax melts are generally safe for pets, but it's always best to keep them out of reach.
Can I mix different wax melt fragrances? Indeed, mixing wax melt fragrances can lead to exciting and personalized scent experiences. Feel free to experiment!
Can you put perfume in wax melts? No! If you want to enjoy the scent of your favourite perfume in your living space, it's best to use the appropriate scented wax melts or fragrance oils that are specifically designed for use in wax melt warmers or diffusers. These products are created to release their fragrance effectively and safely when heated.
---