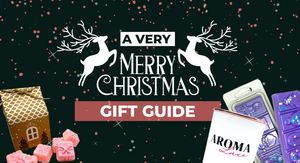 Christmas Wax Melt & Fragrance Gift Guide
It's that time of year again, the days are getting shorter, dark nights, cold mornings! We love it because it also means something else… Christmas is almost here, So don't leave it too late! Every year we all end up in the same position, One week before Christmas rushing around buying everything last minute. Well, here's your warning. Start now! Yep, right now! No more waiting, get ahead this Christmas! You won't regret it.
At Christmas it's important to get things right. Especially with gifting. That's why here at Aroma Luxe we have put together a gift guide to help you with that mad rush of Christmas shopping.
During the festive season, we all love to get the decorations out and blast Christmas music all day long! However, sometimes in the rush of everything we can forget about the scent. To fully embrace the Christmas spirit we need to ensure our homes our smelling exactly the way they should to match the Christmas spirit! What better way to do that than with our Christmas wax melts to brighten the mood.
1. The Wax Calendar (Limited Stock)
At Aroma Luxe, we wanted to make this Christmas stand out. After the tough times we've all had recently with the global pandemic, we wanted to up our game this year!
So, we have created an Aroma Luxe Christmas Advent Calendar to celebrate the countdown for Christmas!
Our Advent Calendar consists of 24 incredible wax melt scents, one for each day in the build up to Christmas! Plus, we included a special surprise too… Shhhh! Imagine sitting down after a long days work, warming up next to the fire with your dressing gown on sipping from a hot chocolate whilst your wax melt transforms the room through the delightful scents that will create the perfect moment.
Next up… our Christmas wax melts.
What better way to do this than by transforming your room through the smell. The way that our wax melts capture the vibe of a room is truly captivating. This is definitely something to wow your guests with.
2. White Chocolate Christmas Cookies - Wax Melts
Our selection of wax melts are designed to bring that festive spirit! For example, one of our wax melts is a White Chocolate Christmas Cookies scent!

A mouth watering combination that will embrace the environment of any room and turn it into a luxury, festive Christmas theme… just through the power of it's scent!
3. Christmas Tree - Wax Melts
The Christmas tree scent which does exactly what it says on the tin! Brings that warm, inviting scent of a pine tree into your home. With notes of bergamot, lemon, white mint and base notes of subtle woods and fur needles, this scent could be your go to Christmas scent to feel your home with festive love!
4. Gingerbread House - Wax Melt Gift Box
Next up… our Gingerbread House Wax Melt Gift Set! This is the perfect stocking filler for anyone who wants to spice things up with a warm inviting scent that will transform their home this Christmas! Our Gingerbread Wax Melt Gift Set consists of a pack of 6 Wax Melts presented in a wonderfully festive Gingerbread House. There are 2 different scents to choose from…
Firstly, Sugar Plum Fairy which is a sweet and fruity scent with hints of cedarwood mixed with nut and vanilla to create the perfect winter smell for the ultimate Christmas vibe!
Alternatively, you could choose for your Gingerbread House to be home to the Santa's Sleigh scent which lets off a sweet and magical scent of Christmas with notes of fruitiness combined with an essence of sweet and floral. Combined with top notes of cedar-wood, ginger and orange with bottom notes of vanilla and musk. An incredible scent, perfect for the Christmas season!
5. Christmas Snap Bars (Multiple Scents)
We also have an array of individual Christmas Wax Melts of incredible scents… these make for the perfect stocking fillers or gift for those loved ones. Our Wax Melt scents consist of Merry Morning - an uplifting scent infused with notes of citrus, orange and lemon with a heart of jasmine and fresh pine wrapped up with a hint of cinnamon.
Another scent to discover this Christmas is our Jingle Bells Wax Melt which has touches of cinnamon and red currant with a hint of strawberry and a sprinkle of cherry almond and citrus to top it off!
Finally, one of our other great Christmas Wax Melts is Cozy Cashmere which is home to an abundance of festive notes such as cinnamon, clove, jasmine, violet and rose. This festive scent gradually fades into a soft warmth of saffron, cashmere with a hint of creamy vanilla to tie the whole vibe together… bliss!
6. Car Diffusers
Go that extra mile this year and give the love of scent to your car or loved ones vehicle with our selection of car diffusers, this is the perfect stocking filler for someone who has got a new car, become a new driver or just loves to have a new scent experience on there travels.
7. Candle Gift Set
You cant go wrong with a luxury candle, whats not to love... the Aroma Luxe Vogue candles have a crackling wood wick and the soya wax is fragranced packed, just light and unwind in the delightful scents.
8. Christmas Scented Sizzlers
We have a few favourites in our Christmas simmering sizzler range, from sugar plum fairy to xmas tree sparkle. With the novelty wooden spoon this is a christmas pick for those fragrance addicts who love to change scents daily.
9. Perfume & Aftershave
Lets not forget the good old favourite, Aftershave & Perfume! Dont spend a fortune this christmas on designer fragrances, here at aroma luxe we stock a selection of the best selling scents on the market...read more here
10. Diffuser Jewellery
Spoil yourself with our Crystal diffuser range or add a bit of glam with our Sterling Silver Collection, each come with your chouce of 10ml fragrance you can add to the lava beads so you get that scent hit throughout the day.
We hope this gift guide has led you in the right direction of some amazing gifts! Please check out our website to see the full Christmas range and discover the perfect gifts for your loved one's this Christmas!
---