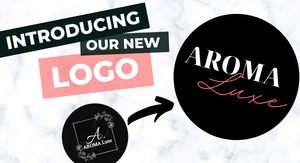 Check out our NEW Logo!
Over the weekend, we rolled out a new logo. We changed our logo for a few reasons. First, the old logo was looking a little tired and because a simpler, more distinctive evolution of it could do that job better.
The logo change felt natural and has added a fresh start to the company that we have grown to become in the last 12 months with the help of our lovely customers....Thankyou 🙏
Our first logo was created before we had a website and was just supplying wax melts for family & friends. It was a quick design put together from some simple ideas while sat up late thinking about what could be…. Still twelve months on I am still thinking about new products, scents and better products to supply to all my loyal customers.
Colours
Pink Coral : The femininity of pink with the optimism and energy of orange is associated with friendship and trust. The perfect colour to symbolize the passion about what we are doing.
White: We are always striving for perfection, so we added a drop of purity to highlight this aspect.
Black: Sophistication, elegance and mystery. No not Fifty Shades of Grey, but we don't know what you are doing with a lit candle and some hot wax 😉
The design of our new logo is a simple sophisticated look which we think has a 80s retro vibe. Being that we are obsessed with beautiful scents and colours, we are proud to move forward with our new logo and hope that you like it too!
What else is new?
Over the last few weeks we have been planning some new products and gift boxes, some you may have seen and some we are excited to launch very soon… Follow us on Social for Sneak peaks and see what we're doing weekly.
Here are some of the new items launched in the last few weeks;
Over the coming weeks we plan to add more scents in our Mini Heart range and bring out some more limited edition scents, but we won't stop there, we want to offer more Wax Burners, Candles and Gift Sets, so keep your eyes peeled for newly landed products here.
Onwards and upwards
It's been over a year since we started and much has happened. We have now expanded our range into many home fragrance categories from Wax Melt Snap Bars & Hearts to Room Sprays and Candles, with a plan to bring you much more under our newly refreshed brand. It's been a wild ride at a speed that weirdly enough didn't make us break (too much).
We're still Aroma Luxe. But much more in tune with what we plan for the future and, we hope, more instantly recognizable.
Thank you for being part of this journey!
---