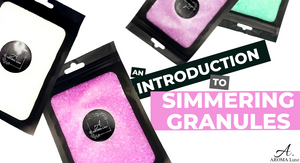 An Introduction to Simmering Granules
Simmering Granules also known as Scented Sizzlers/Crystals are a very popular alternative to oils or wax, they are versatile little bursts of fragrance for your home. Simmering Granules are a natural salt based product with added colour and fragrance for use in oil or wax burners.
Scented Sizzlers are safe, clean and simple to use.

What are Simmering Granules?

Simmering granules are in fact salt granules which have been infused with colour and fragrance. They're like fragrance oil without the danger of spillage and burns, of course if you knock your burner over they will spill, but they are not going to embed into your furniture or carpet, you can even sweep or vacuum them up as they are not heated to scolding point like oil or wax, this can also give your hetty hoover or bin a fresh smell on the inside.
So if you are looking for an easier way to add a beautiful scent to your home or get rid of a nasty smell these little crystal granules will be your saviour.

How to use Simmering Granules

Just add a couple of teaspoons of simmering granules to your burner and pop a tea light underneath, as the granules heat up the scent fills the room with a wonderful aroma for several hours. The fragrance from the salt crystals will evaporate into the air leaving the salt residue in place. You will sometimes notice the coloured granules will fade which is a good indication that a change in granules is not too far away, you can get multiple burns from the scented sizzlers and once you stop smelling the scent then you know you need to replace or top-up your burner.
you can regulate the quantity of fragrance and how mild or strong you would like the scent, for a powerful smell you just add more simmering granules to the well of your burner.
Quick Step guide


Pour as little or as much as you want into your burner well, Unlike wax melts they wont overflow. We usually recommend 1-2 teaspoons as a way to prolong the use of your supply.
Light your T-Light and allow a few moments for the burner the heat up and you should notice the scent flood your room.
 After a number of uses the colour will fade and your scent will be unnoticeable, simply dispose of the used granules and add a fresh scoop to repeat the process.
Can you mix and match Simmering Granules?
Yes, we know a few customers which combine a few of our scented sizzlers to make a unique aroma. We would love to hear of your mixology, leave comments below.
Are Simmering Granules bad for the environment?
No, these natural salt based crystals are environmentally friendly and biodegradable. 
Here at Aroma Luxe we have a variety of simmering granules, browse the range.


You can now buy 6 packs for the price of 5 with our discount code 'sizzle6' - Simply add any 6 scented sizzlers to your cart and enter discount code at checkout.



SIZZLE6 >>

We are always adding new scents to our range, but some are limited edition or seasonal. Keep checking back every month for new aromas.


Accessorize when you buy simmering granules, why not browse our range of simmering burners / wax warmers.


We have a variety of scents in our simmering granule range and are always looking at new scents each month. We also offer seasonal scents and offers so keep in touch and subscribe to our mailing list for the latest releases and discounts.
---