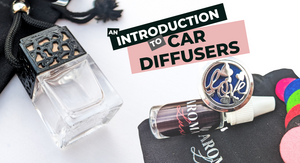 An Introduction to Car Diffusers | How to freshen up your vehicle
Car diffusers… what's the point? Firstly, car diffusers are a great way to improve your driving experience. We must all have had those moments where we pluck up the motivation to have a clean car, but after a week of it being clean, the dust begins to settle and the rubbish piles up in every compartment! Well, a great way to solve this is by using diffusers for your car… Well, the diffuser isn't exactly an instant clean, but it's half way there!
How To Use A Car Diffuser
Step 1. Unscrew cap and remove stopper. Fill or refill if required.
Step 2. Place bottle upside down for 10-15 seconds to allow the fragrance oil to cover the wood lid and release the fragrance.
Step 3. Ensure the lid is tightened to prevent any leaks.
Step 4: Repeat this process whenever your car is in need of a scent boost.
The Benefits Of Using A Car Diffuser
The most obvious benefit is eliminating odour. This is the main reason most people invest in car diffuser's. Whether it be the smell of wet dog from your weekend stroll, the sweaty t-shirts from the gym or food from those late night takeaways. Whatever it is, you can be sure to be safe with a car diffuser. Those embarrassing moments are long gone and you can enjoy any company in your car without the worry of that nasty whiff!
Also, here at Aroma Luxe we love to match a scent to the moment. That's why we have designed and created an abundance of different car diffuser scents so you can pick and choose depending on where you're going and who you're going with!
Car Diffusers for Pet Odour
We love pets at Aroma Luxe. Dogs, cats whatever your loved one is… we've got you covered! For those times when your furry friend has to come on a journey with you in your car, it can sometimes get a bit smelly! That's why we designed and created a specific 'Pet Odour Eliminator' so you can drive in peace while our car diffuser does all the work and zaps that pet smell. Also making the journey after much more enjoyable for yourself and any guests. 
Another benefit is the fact that car diffusers make your car a much more inviting and comforting place. When someone gets into your car, you want them to feel safe and comfortable so why not throw in a car diffuser to make their journey as comfortable and enjoyable as it can be.
Different Types Of Diffusers
When creating our car diffuser range, we wanted to make it customisable to everyone's different needs. Therefore with the abundance of different scents paired with the different types of car diffusers, we have achieved just that!
The first type of diffuser we offer is your traditional, hanging diffuser designed to be hung on your rear view mirror. This is a great design as it's placed in a central place; therefore making the most of the scent as it's dispersed around the car. These types of diffusers are very popular as they are super easy to set up and are very effective.
Our other type of diffuser is a locket vent clip. This means you can clip it to your air vent and have your chosen scent dispersed all around your car. A perk to these types of diffusers is that they can be controlled by the power and angle of your air vent; giving you total control of how strong you want the scent to be!
Scents for Car Diffusers
We offer over a dozen scents available and the ability to buy fragrance refills, simply shop by style of car diffuser you are looking for and then add your preferred choice of scent to accompany the car fragrance set, not only that it comes in a stylish bag.
Our scent refills are in 10ml bottles and come in a variety of aromas, some are from very well known designer fragrances and scents that will make you tingle with nostalgia, we also have some of the good ol' favourites like 'new car smell' and other fresh & clean scents.
That's all for our introduction to car diffusers, be sure to check out our website to see our full line of car diffusers to improve the aroma of your car!
Related Articles
---